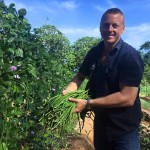 What a year 2016 was!
In what may well be a world-first, we brought a previously mined site back to life with fertile soil ready for planting. We've come a long way since 28 November 2014, when we finally got the green light to start work on our first Hidden Garden Farm on Christmas Island. Just over two years later, what was once a barren mine site is now a flourishing, sustainable farm site supplying fresh, organic produce to its local community. Instead of paying exorbitant prices for an iceberg lettuce well past its use-by date, locals can now choose from a range of fresh picked, affordable salad greens.
Of course, like many epic journeys, ours was not without its challenges – many of them from Mother Nature. But after an unprecedented wet season with more than double the amount of average rainfall, we have successfully grown more than 40 crop varieties and local suppliers' shelves are stocked weekly with a growing range of Hidden Garden Sustainable Farm produce.
We've also invested in farming and irrigation equipment including an 85Hp tractor, commercial sprayer, rotary hoe and bed former, forage harvester, compost turner, ploughs and slashers.
We have been supported every step of the way by the Christmas Island community. Demand for our product far exceeds our supply – but we're working on that! Our farm is literally growing every day.