Mark Bennett – Managing Director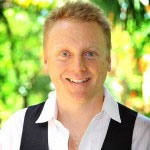 Mark Bennett has over 15 years' experience in environmental management with an emphasis on rehabilitating degraded landscapes into productive systems. Having worked across Australia and Micronesia, he is regularly drawn back to Christmas Island where he has strong ties and a long affiliation. On the Island Mark established an enviable track record of successful rehabilitation projects through his consultancy C Change Sustainable Solutions and was previously the Environmental Manager for Christmas Island Phosphates for many years. CIP won a finals berth in the prestigious Banksia Environmental Awards of 2004 following implementation of Mark's strategies.
Growing up on Christmas Island, Mark has developed a keen interest in how food security can significantly impact the plight of isolated communities. He is now focusing his knowledge and experience, in partnership with co-founder Paul Taylor, to create productive food bearing systems, that can be replicated almost anywhere in the world. His high standing within the local community will help ensure positive community support for the project is maintained.
---
Tony Camphin – Finance
Tony Camphin qualified as a Chartered Accountant in 1976, and later established Camphin Boston Chartered Accountants, before retiring from that practice in 1994. Over the last 25 years, he established and developed a number of beef production systems in Australia to supply high quality beef to Japan, Hong Kong and South Korea. He also developed the Japanese markets for animal feedstock and wine.
As a guest lecturer, at the Graduate School of Business, University of Technology Sydney, Tony specialises in Innovation and Entrepreneurship, Strategic Management and Global Strategy, and also runs a successful bi-monthly seminar series at the Kirribilli Club, Milsons Point.
Tony is brings to the Board considerable experience and expertise in strategy, finance and environmental studies having conducted feasibility studies into a range of agricultural based ventures, including ethanol plants, cattle breeding and feeding operations.
In 2008 he joined Duncan Dovico and established Strategic Corporate Direction, a specialist branch of the practice devoted to business and strategic planning and capital-raising.