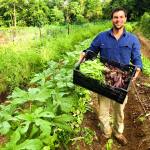 With demand exceeding supply…
…and exciting new contracts on the horizon, we are looking to raise further capital to develop Hidden Garden Sustainable Farm Christmas Island to its full potential. We have already invested in farm and irrigation equipment adding substantial value to our shareholder's investment. Additional funds would allow us to establish our retractable roof greenhouses giving crops year-round protection from heavy rainfall; double our dam water storage capacity; purchase specialised horticultural equipment and upgrade our harvesting and processing facilities.
We are actively seeking equity investment, green bond finance and public and private community development funding platforms. We are also expanding our fund-raising beyond Australian shores, targeting international markets that respond favourably to agri-tech opportunities, particularly North America, Canada and the UK. To maintain project momentum, we are asking our existing shareholder base to raise AU$300,000 to expand the open row cropping area, and begin our chicken egg and mushroom production facilities.
Please contact:
Tony Camphin +61 411 176 693 or
Mark Bennett +61 403 004 88
to discuss this unique opportunity to become an investor in Christmas.