…recipes from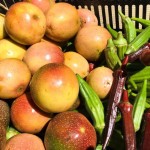 the hidden garden kitchen
 Support your local economy by eating fresh and local. It's better for you and packed with flavour.
Our March harvest included fresh, organic okra, bananas, passionfruit, salad leaves, lettuce, eggplant, spring onion, wing beans, red and green chillies, baby capsicum and mizuna…
 Why not try … Passionfruit
Scientific name: "Passiflora edulis'. Also goes by: many names passionfruit (English), maracuya (Spanish), grenadille or fruit de la passion (French), maracujá (Portuguese) and lilikoʻi (Hawaiian). Hails from: southern Brazil. Tastes: sweet and exotic – slightly tart. Cooking styles: grown in tropical and semi-tropical regions around the world, passion fruit feature in many recipes and cooking styles. Nutrients: antioxidants, flavonoids, vitamin A, vitamin C, riboflavin, niacin, iron, magnesium, phosphorus, potassium, copper, fiber, and protein.The verdict:  popular fruit in a range of desserts, cocktails, cordials and juices. Can also be used in marinades and vinaigrettes for tropical flavour.
Prawn skewers with spiced passion fruit and achiote-chilli butter
Not everyone likes fruit and seafood, but the spicy Latin American flavours work with the sweet but slightly tart passionfruit and fresh juicy prawns.
You'll need
1 kg fresh raw prawns – deveined
15- 20 skewers, (soak in water first to prevent burning)
Passion fruit marinade:
2/3 cup passionfruit juice
2-3 tablespoons olive oil
2 teaspoons of ground cumin
1 teaspoon of chilli powder
1 tablespoon ground achiote powder (pure achiote does have a subtle, smoky flavour as well as great colour. It can be ordered online or try substituting turmeric or paprika powder)
Salt and pepper
Achiote-chilli butter:
1 teaspoon ground achiote powder
1 green chilli (seeds removed)
120 grams butter, at room temperature
1 lime, juiced
1/4 teaspoon ground cumin
How to
Combine all marinade ingredients in a glass bowl
Process all achiote-chilli butter ingredients and set aside
Marinate prawns in passion fruit marinade for 2-3 hours.
Pre-heat the BBQ.
Slide 5 prawns on each skewer
Brush the prawns with the melted achiote-chilli butter and place on hot BBQ grill, for 3-4 minutes each side or until the prawns are fully cooked.
Baste with the butter two or three times each side.
Serve with rice and/or green salad
Garnish with fresh chilli and lime halves, brushed with melted butter mixture and caramelised for a minute on the grill.
Why not share your favourite passionfruit recipe?